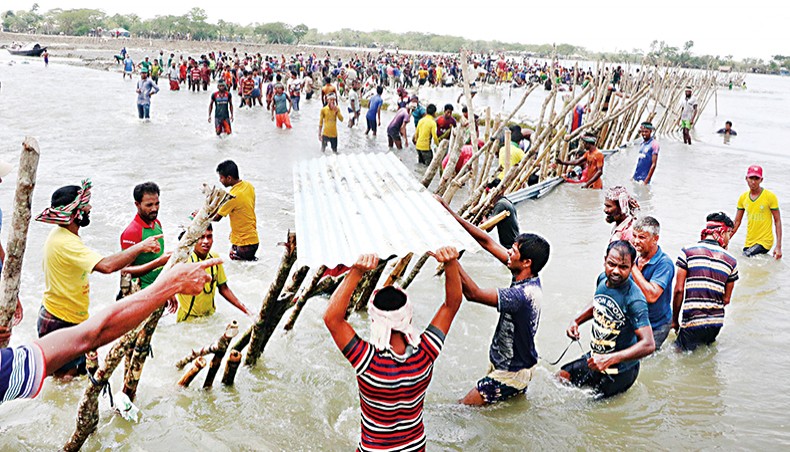 The flood this year has surpassed the great flood of 1988, the flood known for its severity in terms of water level heights, revealed data presented by Water Development Board at a seminar on Monday.
Four of the water level records at major rivers such as the Jamuna, Teesta and Dharla dates back to the 1988 flood and they were all broken this year by large margin as rivers spilled banks for 64 days.
The water level record in the Ghaghat, set during the flood of 1998, the biggest flood in Bangladesh's history in terms of duration, was also broken this year, showed the WDB data.
'The flood this year was more severe than the great flood of 1988,' said WDB executive engineer Arifuzzaman Bhuyan as he presented the data in a keynote paper at the seminar organised by science and technology affairs sub-committee of Awami League.
The Jamuna at Fulchari point of Kurigram rose to 21.06 metres, 61 centimetres above the last water level record set in 1988, said Arif.
In Bahadurabad of Jamalpur, the Jamuna flowed at 20.79 m, 17cm above the last water level record set in 1988, said Arif.
The Teesta also flowed at a record high level at 52.95m, 6cm above the last flood level record set at Dalia point in Lalmonirhat in 1988.
In the Dharla the new water level record was set when the river flowed at 27.53m at Kurigram, 12m above the previous record set in 1988.
The Ghaghat set the new water level record at Gaibandha flowing at 22.64m, 34cm above the earlier record made in 1998.
The WDB records represent five decades of data preserved since Bangladesh's independence in 1971.
'This is the first time so many records broken in a single flood,' said Arif.
The WDB data showed that the duration of this year's flood was greater than the duration of the flood in 1988 at six stations.
This year flood stayed in northern region for a month on an average but in central districts such as Rajbari its duration was 54 days, according to the WDB data.
The 1988 flood duration ranged between 16 to 29 days, according to the WDB.
In 1998, Shariatpur remained flooded for 73 days while there were places where flooding continued for more than 60 days.
While at its peak, the Padma flowed at 9.84m this year, a cm above the 1988 level but 37cm below the water level record set in 1998.
The loss of navigability is often held as a reason behind rivers flowing higher but there is evidence that rivers discharged more water this year than before.
More than usual rainfall was observed in the upstream such as Assam, Meghalaya and sub-Himalayan areas in both June and July, showed the WDB data.
In June, Assam, Meghalaya and sub-Himalayan areas received 24 per cent, 50 per cent and 21 per cent above normal rainfall respectively.
In July, Assam experienced 25 per cent and Meghalaya 21 per cent above their normal share of rainfall.
The flood this year engulfed about 40 per cent of the country affecting more than 5.5 million people in 33 districts.
Arif said that the government should concentrate on strengthening evacuation mechanism for high population density often forces many to stay back home risking their lives even during extreme flooding.
The health emergency control room said that flood-related causes killed 251 people between June 30 and August 27.
Although rivers fell below the danger level two days ago, water stagnation gripped many areas in northern and central Bangladesh largely because of unplanned development blocking water drainage.
On Monday, Flood Forecasting and Warning Centre said that that the country's major rivers except Surma and Kushiyara were on falling trend in the last 24 hours until 9:00am.
Bangladesh Meteorological Department said that light to moderate rain may occur at many places of Rajshahi, Dhaka and Chattogram divisions until Tuesday morning.
Vast areas in the country's coastal region were under water from sea water intrusion through cracked polders and it is likely to continue in some places for another one month or more.
Want stories like this in your inbox?
Sign up to exclusive daily email
More Stories from Country