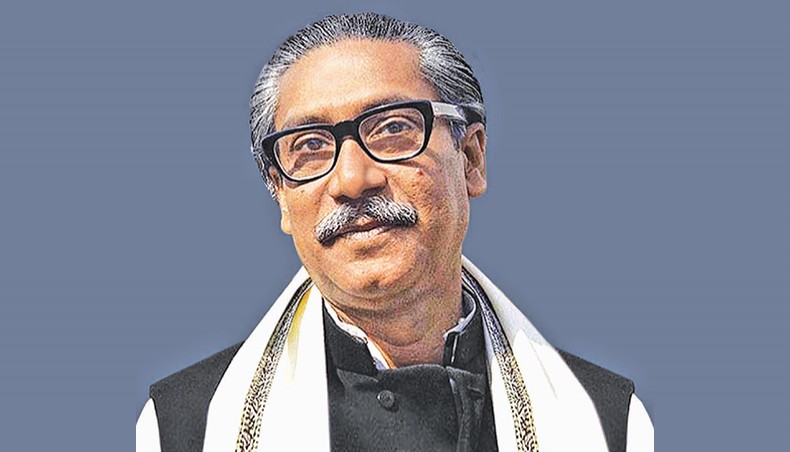 The nation is to observe National Mourning Day today marking the 45th death anniversary of the country's founding president Sheikh Mujibur Rahman.
Sheikh Mujib was assassinated along with all but two of his family members on August 15, 1975 at his Dhanmandi residence in Dhaka by a group of army personnel.
His daughters — Sheikh Hasina, now the prime minister, and Sheikh Rehana — survived the massacre as they were abroad at that time.
The government, political parties, and different socio-political and cultural organisations have taken elaborate programmes marking the day.
Though the year 2020 marks the birth centenary of Sheikh Mujib and was declared as Mujib Year, the programmes to mark the death anniversary have been scaled down considering the novel coronavirus outbreak and the flood situation.
The national flag will be hoisted at half-mast atop all government, semi-government, autonomous organisations, educational institutions, non-government offices and Bangladesh missions abroad marking the day.
Awami League will also hoist national and party flags at half-mast and raise black flags at Bangabandhu Bhaban, party's central office and party offices across the country at sunrise.
The ruling Awami League and different organisations backed by the party are already holding month-long programmes to pay homage to Sheikh Mujib and the members of his family killed on the fateful day.
A group of army personnel killed Mujib, his wife Fazilatunnesa Mujib, sons Sheikh Kamal, Sheikh Jamal and Sheikh Russell, daughters-in-law Sultana Kamal and Rosy Jamal, brother Sheikh Naser, nephew Sheikh Fazlul Huq Moni, also a youth leader, his wife Arzu Moni, Mujib's brother-in-law Abdur Rab Serniabat, also a peasant leader, his daughter Baby Serniabat, son Arif Serniabat, grandson Sukanta Abdullah Babu, AL leader Amir Hossain Amu's cousin Abdul Nayeem Khan Rintu and Mujib's chief security officer colonel Jamiluddin Ahmed on the night of August 15, 1975.
Five of the 12 army officers, condemned convicts of Mujib killing — Syed Faruk Rahman, Sultan Shahriar Rashid Khan, Muhiuddin Ahmed, Bazlul Huda and AKM Mohiuddin Ahmed — were executed on January 27, 2010, a year after the Awami League-led alliance government had assumed office for the second time.
Among the six other condemned convicts, Khandaker Abdur Rashid, Shariful Haq Dalim, MA Rashed Chowdhury, SHMB Noor Chowdhury are still in hiding abroad while retired Lt Col Aziz Pasha reportedly died in Zimbabwe in 2001.
Abdul Majed was hanged on April 12, 2020, days after he was arrested at Mirpur in Dhaka on his return from India.
The remaining condemned convict, Moslem Uddin, is still in hiding. Indian media, however, have claimed that Indian authorities have handed Moslem Uddin over to Bangladesh. The government rejected the claim.
Awami League general secretary Obaidul Quader on Thursday called upon the party leaders and activists to observe the programmes in a befitting manner maintaining the health guidelines.
He also urged all progressive political, socio-cultural organisations and the people to observe the National Mourning Day with due respect in the Mujib Year.
As part of the party programmes, at dawn today, the national flag and party flag will be kept at half-mast and black flag will be hoisted at the Bangabandhu Bhaban, Awami League headquarters in the capital city and all other offices of the party across the country.
Tributes will be paid to Sheikh Mujib by placing wreaths at his portrait on Bangabandhu Memorial Museum premises on the city's Dhanmondi road number 32 at 8:00am on the day while Dhaka city units of AL and its associate bodies will pay homage to Sheikh Mujib through mourning processions.
AL will also pay homage to all martyrs of August 15 carnage by laying wreaths at Banani graveyard at 8:45am while offering fateha, munajat and participating in a doa mahfil to be held there.
Besides, homage will be paid to Sheikh Mujib by placing wreaths at his mausoleum at Tungipara in Gopalganj and by offering fateha, munajat and holding doa mahfil there at 10am.
A delegation of the AL central working committee and its Gopalganj district and Tungipara upazila units will take part in that programme.
The delegation members are AL presidium member Muhammad Faruk Khan, central working committee member Abul Hasnat Abdullah, presidium members Jahangir Kabir Nanak and Abdur Rahman, joint-general secretary AFM Bahauddin Nasim, organising secretaries BM Mozammel Haque, SM Kamal Hossain, Mirza Azam and Afjal Hossain, central working committee members ABM Riazul Kabir Kawser, Sahabuddin Farazi and Anisur Rahman.
The party will also hold Doa and milad mahfils at mosques across the country after Zohr's prayers while special prayers will also be offered at temples, pagodas, churches and all places of worships on the day.
In the afternoon, food will be distributed among the orphans, poor and destitute people.
President Abdul Hamid and prime minister Sheikh Hasina in separate messages paid homage to Sheikh Mujibur Rahman.
'On the National Mourning Day, let us translate our grief into strength and devote ourselves to building a "Sonar Bangla" as dreamt by the father of the nation,' president M Abdul Hamid said in a message on the eve of the National Mourning Day.
The prime minister, Sheikh Hasina, in her message on the eve of the day, urged the people to turn the grief of the loss of Sheikh Mujib into strength and engage themselves in building a non-communal, hunger- and poverty-free prosperous Bangladesh by upholding his philosophy.
State-run Bangladesh Betar and Bangladesh Television will air special programmes marking the National Mourning day. National newspapers and magazines will publish special supplements on the occasion.
Besides, specially designed posters on Sheikh Mujibur Rahman will be printed and distributed while documentary on him will be screened on the occasion.
The specially designed posters on National Mourning Day will be displayed at important public places, including at educational institutions or growth centres, reminding the people of the country's murky history.
The display of posters and others programmes marking the day will be publicised through LED display board at different public places.
Posts and Telecommunication Division will send SMS by Bangladesh Telecommunication Regulatory Commission to all mobile users describing the significance of the day.
Traffic in and around Bangabandhu Memorial Museum at Dhanmondi will be restricted on the occasion. Dhaka Metropolitan Police will restrict traffic from Sonargaon crossing to Russel Square, City College to Russel Square and Dhanmondi-27 to Russell Square in the capital on that day.
The Awami League government on August 8, 1996 declared August 15 National Mourning Day and a public holiday.
Its successor, Bangladesh Nationalist Party-led alliance government, however, cancelled the decision on August 2, 2002 and the High Court on July 27, 2008 declared the cancellation illegal.
Want stories like this in your inbox?
Sign up to exclusive daily email
More Stories from Politics