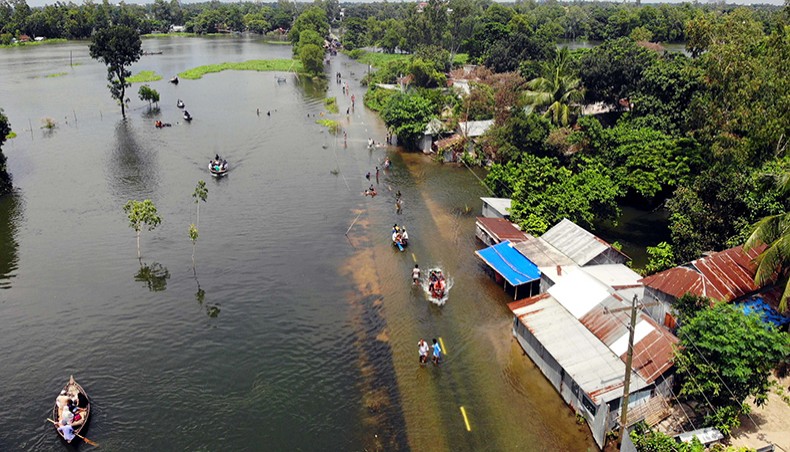 Hundreds of flood victims in the north returned to their houses after a month and a half on Sunday as floodwater continued receding, leaving a trail of destruction.
They are happy to be back home but disheartened to see that they would need to remove tonnes of mud to make their homes livable again or restore their fields to prepare them for cultivation.
Many of them would have to begin rebuilding from scratch as the worst flood in two decades swept away their houses leaving behind only a pillar or two.
Although rivers flowed above their danger marks at 11 points until Sunday in central Bangladesh, they all fell below their danger marks in the north.
'It feels great to be back home though the flood left behind very little of what was my home,' said Amena Begum, a resident of Purbo Haguria Hashim village of Pirgachha in Rangpur.
Though Amena has nothing close at hand which she would be able to cook, she would still need to dig up the courtyard to build an oven if she wanted to have a meal in future.
'I don't know where to start to bring a semblance of order as all my furniture were rotting,' said Amena.
Amena, like many other flood victims, cannot count on the government for help to get back on her feet for the government help always fell far short of meeting their demands.
Until Sunday, 44 days after the flood, the government distributed only 11,518 tonnes rice and 1.62 lakh packets of dry food to assist over 5.5 million flood-affected people as the flood inundated 40 per cent of the country at its peak.
Over a million of the affected people remained stranded in water for over a month and thousands lost homes because erosion affected swaths of land along the bank of major rivers.
There are hardly any studies to put in perspective the struggle the flood-affected people would have to undertake in the wake of the flood.
But last year, a research released from London's Kingstone University showed that the poor disaster victims in Bangladesh spent double the amount the government had spent for them during the natural disasters in 2015-16.
Another research from the same university revealed that the disaster-hit people sourced their disaster expenses from the local loan sharks, who lent the amounts at 24 per cent interest rate.
Enamul Haque, a farmer of Chilmari, Kurigram, who witnessed the flood washing away his two cows, destroying rice in a three-bigha land and vegetables in the other two bighas, returned home after many sleepless nights.
'It is likely that I will never recover my losses,' said Enamul.
The post-flood recovery this year would be more difficult than ever before because of the coronavirus health crisis, which already caused the worst economic downturn in decades even before the flood.
Kurigram deputy commissioner Rezaul Karim said that post-flood rehabilitation is particularly difficult in low-lying shoals where it could take up to three months before a victim could sleep under a roof.
'We have started putting together a list of the victims to assess what type of help they may need from us,' said Rezaul Karim.
The government's rehabilitation is mainly limited to providing corrugated sheet and sometimes a very small amount of cash.
According to National Disaster Response Coordination Centre, the government allocated only 300 bundles of corrugated sheets so far and Tk 9 lakh in cash for rebuilding houses.
With 113 houses eroded between Saturday and Sunday, over 23,000 houses were devoured by rivers in the Rangpur division alone.
The Rangpur divisional commissioner's office said that over 28,000 people sheltered at flood shelters run by them returned home by Sunday.
There are many families who would have to continue to live on embankments for they are unable to rebuild their homes even with full government support because they lost all the land they owned.
Some of them are trying to find a temporary home on government khash land or requesting affluent people to allow them to live in their land for the time being.
Meanwhile, rivers in central Bangladesh continued to erode their banks with the Flood Forecasting and Warning Centre saying that the rivers would continue to recede through Monday.
The FFWC said that the Brahmaputra and the Jamuna would continue to recede through Wednesday and the Padma through Tuesday.
The FFWC said that the flood situation in Dhaka city corporations and in districts such as Sirajganj, Tangail, Natore, Manikganj, Munshiganj, Faridpur, Madaripur, Chandpur, Rajbari, Shariatpur, Dhaka and Narayanganj may improve by Monday.
In a special flood outlook, the FFWC said that there was no possibility of further flooding over the course of the next two weeks from Sunday.
It said that the overall flooding may end in a week.
The forecasters earlier however warned about possibility of further flooding in the last week of the month.
Want stories like this in your inbox?
Sign up to exclusive daily email
More Stories from Country